Rheumatoid Arthritis
Rheumatoid Arthritis definition
Rheumatoid arthritis (RA) is an autoimmune disease that causes chronic inflammation of the joints. Autoimmune diseases are illnesses that occur when the body's tissues are mistakenly attacked by their own immune system. The immune system contains a complex organization of cells and antibodies designed normally to "seek and destroy" invaders of the body, particularly infections. Patients with autoimmune diseases have antibodies and immune cells in their blood that target their own body tissues, where they can be associated with inflammation. While inflammation of the tissue around the joints and inflammatory arthritis are characteristic features of rheumatoid arthritis, the disease can also cause inflammation and injury in other organs in the body. Because it can affect multiple other organs of the body, rheumatoid arthritis is referred to as a systemic illness and is sometimes called rheumatoid disease. Rheumatoid arthritis is a classic rheumatic disease.
Fast Facts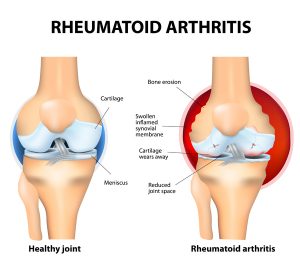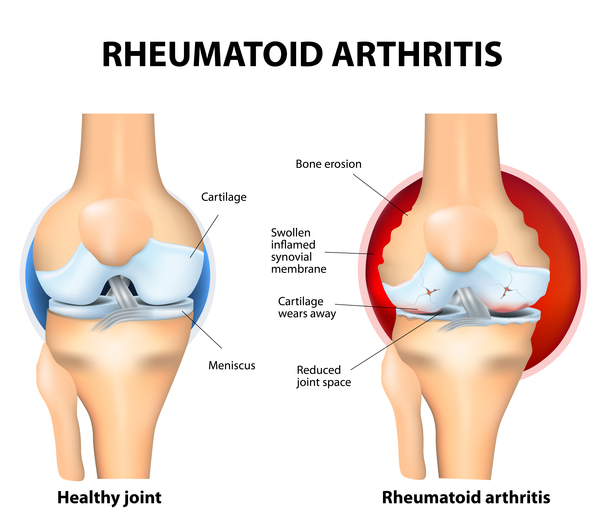 Rheumatoid arthritis (RA) is the most common type of autoimmune arthritis. It is triggered by a faulty immune system (the body's defense system) and affects the wrist and small joints of the hand, including the knuckles and the middle joints of the fingers.
Treatments have improved greatly and help many of those affected. For most people with RA, early treatment can control joint pain and swelling, and lessen joint damage.
Perform low-impact aerobic exercises, such as walking, and exercises to boost muscle strength. This will improve your overall health and reduce pressure on your joints.
Studies show that people who receive early treatment for RA feel better sooner and more often, and are more likely to lead an active life. They also are less likely to have the type of joint damage that leads to joint replacement.
Seek an expert in arthritis: a rheumatologist. Expertise is vital to make an early diagnosis of RA and to rule out diseases that mimic RA, thus avoiding unneeded tests and treatments. Rheumatologists are experts in RA and can design a customized treatment plan that is best suited for you.
Symptoms
Signs and symptoms of rheumatoid arthritis may include:
Tender, warm, swollen joints
Joint stiffness that is usually worse in the mornings and after inactivity
Fatigue, fever and weight loss
Early rheumatoid arthritis tends to affect your smaller joints first — particularly the joints that attach your fingers to your hands and your toes to your feet.
As the disease progresses, symptoms often spread to the wrists, knees, ankles, elbows, hips and shoulders. In most cases, symptoms occur in the same joints on both sides of your body.
About 40 percent of the people who have rheumatoid arthritis also experience signs and symptoms that don't involve the joints. Rheumatoid arthritis can affect many nonjoint structures, including:
Skin
Eyes
Lungs
Heart
Kidneys
Salivary glands
Nerve tissue
Bone marrow
Blood vessels
Rheumatoid arthritis signs and symptoms may vary in severity and may even come and go. Periods of increased disease activity, called flares, alternate with periods of relative remission — when the swelling and pain fade or disappear. Over time, rheumatoid arthritis can cause joints to deform and shift out of place.
Rheumatoid arthritis symptoms and signs include
joint pain, such as in the joints of the feet, hands, and knees,
swollen joints,
fever,
limping,
polyarthritis,
loss of range of motion,
tender joints,
loss of joint function,
stiff joints,
fatigue,
joint redness,
rheumatoid nodules,
anemia,
joint warmth,
joint deformity, and
symptoms and signs that affect both sides of the body (symmetry).
For more details visit : http://gurusgarden.com/disease.aspx?did=Rheumatoid-Arthritis